MARTLETS SNAILSPACE
In Autumn 2018, our firm sponsored Snailspace Brighton, a free public art event involving 50 giant Snail sculptures. The idea was to be #BeMoreSnail – spend time with family and friends, meandering around our city's historical landmarks, whilst helping to raise vital funds for Martlets.
Martlets care for people living through a terminal illness in Brighton & Hove and the surrounding area. In addition to a hospice with 18 beds, the charity offers counselling, therapies and bereavement support. A Hospice at Home team of 10 nurses also provides respite for carers, allowing patients to spend their final days at home. The charity is only 20% funded by the NHS. The rest of their revenue comes from donations and fundraising activities such as Snailspace.
Our own Snail, Inca, sat outside the South Gate of the Royal Pavilion and was designed by Art + Believe. The talented duo are renowned for creating large scale colourful, geometric murals that bring architectural spaces to life. They have painted all over the world: Inca having been inspired by their recent travels to Peru. Their artwork is their way of giving something back to local communities devoured by tourism. They believe it is the first step in redressing the balance.
To help raise money for Martlets, our enthusiastic staff participated in a selfie challenge, rode a static bike along an imaginary Inca trail, held a pub quiz and spent time volunteering at the Martlets warehouse. At the end of the campaign, Inca raised an incredible £3,600 at auction.
Watch this space because our support for Martlets will continue into 2019.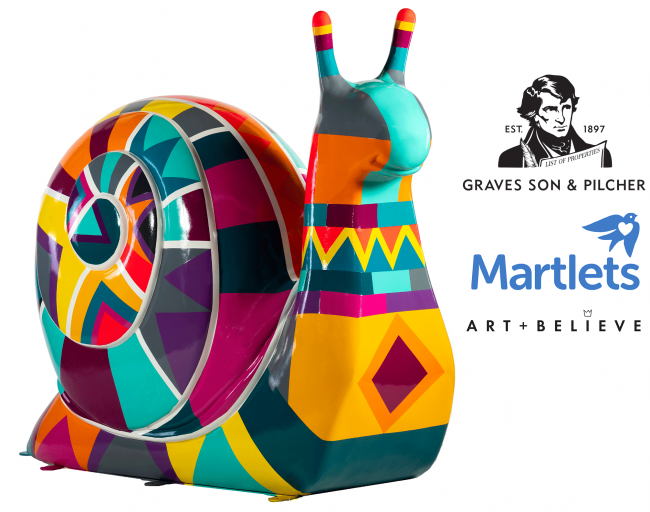 "Working with Graves Son & Pilcher has been a dream. From art projects with a local school to cycling 148 miles on a static bike (in the rain!), they promoted Snailspace and Martlets at every opportunity, engaging members of the community young and old in their activities. GS&P have raised awareness and money at every turn and have been an amazing corporate partner, being professional, creative and enthusiastic throughout."
Emma Knight, Head of Partnerships and Major Donor Giving, Martlets Hospice
Wooden Spoon
Graves Son & Pilcher also support Wooden Spoon, a local charity that changes the lives of disadvantaged and disabled children through rugby. Every year the charity funds around 70 projects, from community programmes and specialist playgrounds to medical treatment centres and sensory rooms.
Since 1983, they have distributed over £26 million, helping more than a million children.